The A-League's Melbourne derby has been abandoned after a player and the referee were injured in a pitch invasion by a spectator.
Fans ran onto the pitch in the 22nd minute of the game between Melbourne City and Melbourne Victory.
Referee Alex King tried to shield City goalkeeper Tom Glover as both suffered lacerations to their faces after being hit by a metal bucket.
Glover had multiple stitches before being taken to the hospital for scans.
A statement from the city said external link Glover, 24, went in for "further follow-up" after an examination by the club doctor.
A television cameraman was also injured by a torch.
In a statement, external link Victory said the club were "devastated" and "unequivocally condemn" the "appalling behavior" shared by both clubs at Saturday's game at AAMI Park by the fans.
"The actions which resulted in spectators entering the field and injuring a Melbourne City FC player, an official and a Network 10 cameraman are unacceptable under any circumstances and have no place in football," he continued.
Supporters had protested before and during the game, which was initially suspended and then abandoned for player safety concerns.
Post-Grand Finals protests moved to Sydney
Melbourne Victory fans held up banners to protest the APL
The Australian Professional Leagues (APL) announced last week that they had sold the A-League Grand Final rights to Sydney for the next three years. As a result, protests were planned at several A-League games this weekend.
Victory and City fans planned a walkout after 20 minutes, but the protest escalated after flares were thrown onto the field by both supporters.
According to Melbourne newspaper The Age.external-link, City were 1-0 up when Glover appeared to hurl a flare back at the crowd
Victoria Police said about 150-200 Victory fans then ran onto the field and Glover and Referee King were hit by a bucket used to dispose of flares, covering them both in powder and smoke.
The players, including former Portugal and Manchester United winger Nani, were immediately taken off the field and Football Australia said the game was abandoned "to protect the integrity of the game".
A statement from Football Australia said "heavy sanctions" would be imposed after the "shocking scenes".
"Such behavior has no place in Australian football and a full investigation into Football Australia is to begin immediately," he added.
An APL statement said: "The Australian Professional League is coordinating with Football Australia on the impact of these events."
"An absolute disgrace" – social media reaction
Victoria Police are also investigating the incident, which drew widespread criticism on social media.
"I can't believe what happened," said former Australia midfielder Robbie Slater. "Not the way to protest. Very sad it has come to this."
Former Australia goalkeeper Clint Bolton added: "I've never felt so embarrassed and empty as I do now."
"This is an absolute disgrace from the Melbourne Victory fans," wrote the Western United left-back Ben Garuccio.external link
"Not what football needs in this country and I hope whoever threw that bucket gets banned from playing another A-League game."
Newcastle Jets supporters staged a walk-out protest 20 minutes into Friday's home game against Brisbane Roar.
Central Coast Mariners fans did the same during Saturday's game against Sydney FC, while a group of Sydney FC fans boycotted the Gosford game altogether.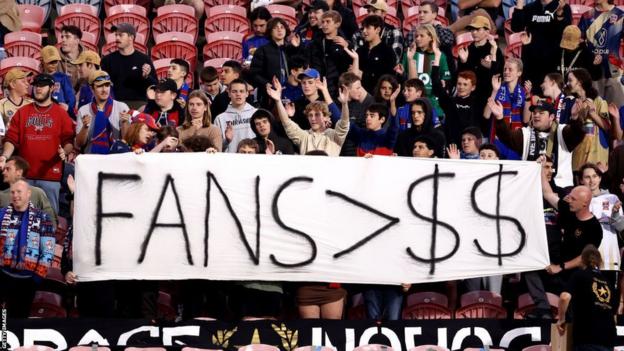 Newcastle Jets supporters also protested at their game on Friday